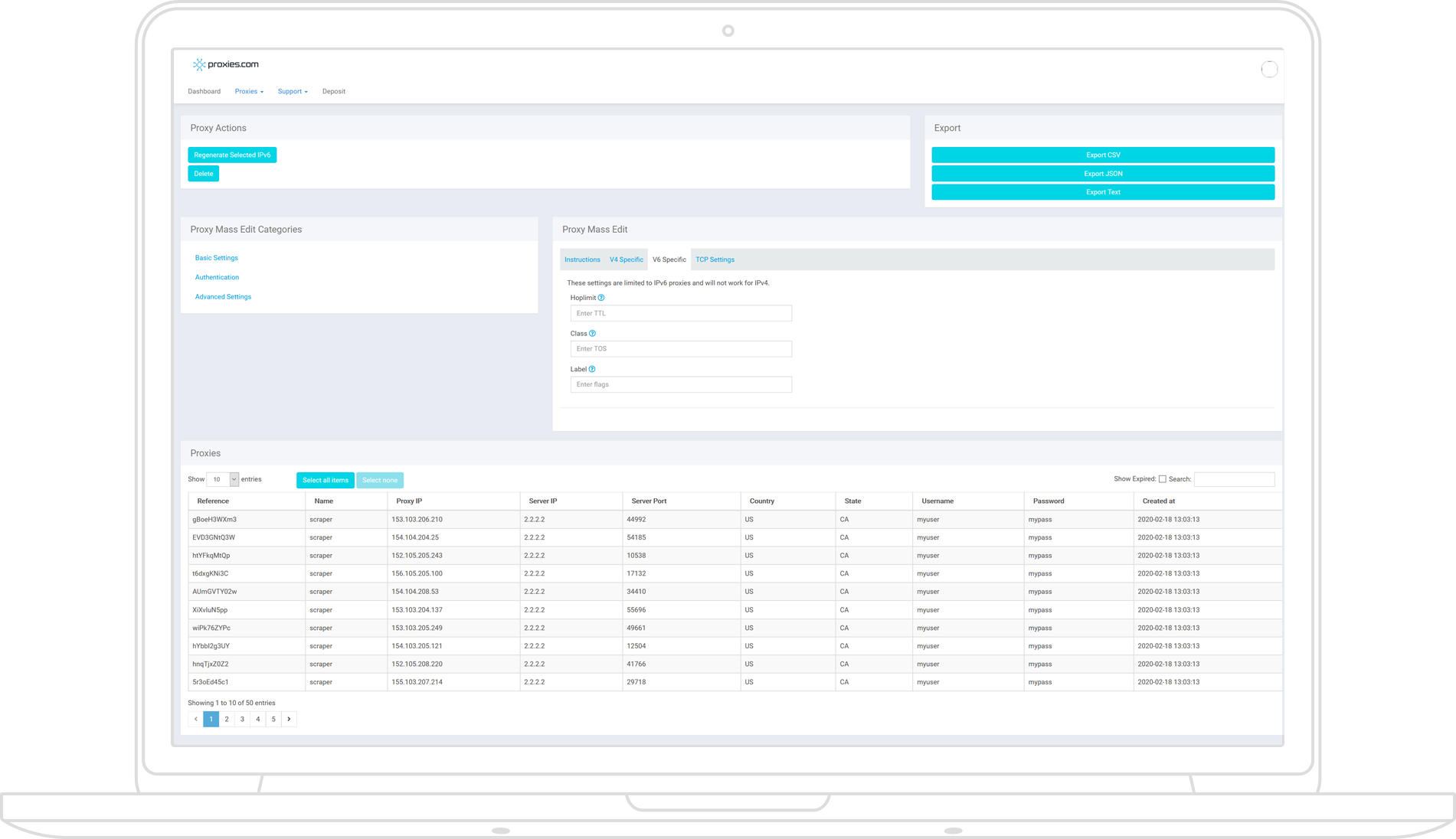 Cheapest private proxies in the world!
Private IPv4 and Unlimited Rotating IPv6.
Proxies from $.10 to $.50 per month.
Sign up now
IPv4 and IPv6 Proxies
Proxies.com offers both IPv4 and IPv6 proxies for your needs. With our IPv6 proxies you can access a near infinite number of IPs from our multiple /19 ranges. All IPv6 proxies are also rotatable meaning you can choose when you want to get a new IPv6 IP whenever you wish! No extra cost, no limits and instant.
Our IPv4 selection allows you to pick from multiple countries for the domain(s) you wish to access. This guarantees you dedicated access to the site of your choosing without having any other customer using it at the same time as you. These proxies are backed by high throughput servers.
IPv4
$0.10 Per Proxy
Proxies.com offers private IPv4 proxies in 6 different countries around the world. Don't miss out on a great service with even better pricing!
Learn more about IPv4
IPv6
$0.50 Per Proxy
Proxies.com offers unlimited rotations and completely private IPv6 proxies at the most competitive pricing in the industry!
Learn more about IPv6
Features
Here's how Proxies.com can help you with your proxy needs.
Lowest Prices
IPv4 proxies are $.10 per proxy per month, and IPv6 proxies are $.50 per proxy per month.
Anti-detection
Even better than Elite Proxies, our completely free and one-of-a-kind anti-detection tool:
Defeats fingerprinting
Can imitate browsers, phones, and custom applications
Does not send headers
Multiple Types of Proxies
Both SOCKS5 and HTTP(S) are available for IPv4 and IPv6 proxies.
Fast, Powerful Servers
Our proxies are ran on fully dedicated hardware.
Dedicated Support
Our customer support specialists are always available to help with any questions or issues. We also have a team of developers available for any complex needs.
No Bandwidth Limits
Use your proxies how ever you want with no limitations!
Start using Proxies.com for the Cheapest and Most Secure Proxies